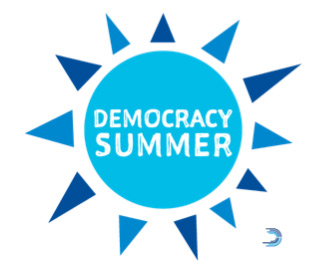 To apply to be a 2021 Democracy Summer Fellow, please submit an application HERE. Democracy Summer 2021 will be primarily in person. Maryland-based college students are encouraged to apply. The program will take place June 21-July 31.
Selected Fellows will participate in a virtual curriculum designed by Rep. Raskin focused on the history of social and political change in America, while simultaneously training as organizers and volunteer activists. Hoyer For Congress will pay Fellows a $1000 stipend.
Through this curriculum, Fellows will learn from great activist heroes, political leaders, Democratic policy experts, and top political and community organizers across the country. Democracy Summer Fellows in Maryland's Fifth Congressional District will also work directly with Congressman Hoyer's re-election campaign. Through this organizing work, Fellows will receive an intensive, practical training in the key skills of Democratic campaigning: electoral strategy, field organizing, door-to-door canvassing, phone-banking, text banking, fundraising, policy development and campaign messaging, social media and digital strategy, rally and online organizing, event planning, scheduling, and campaign management.
The theme of 2021 Democracy Summer will be "The Fight to Vote: Nonviolent Movements, Violent Reactions and the Continuing Struggle for Strong Democracy in America."
In prior years, the Program has also featured conversations on topics such as the climate crisis, gun violence prevention and the power of the NRA, the assault on reproductive freedom, wealth inequality and tax policy, immigration and refugee policy, the Electoral College and the National Popular Vote campaign, redistricting and gerrymandering, the domestic budget and the military budget, U.S. foreign policy and Congressional power to declare war, education policy, civil rights and civil liberties, and the continuing spread of voter suppression tactics in GOP-controlled state legislatures. Democracy Summer speakers have included House Speaker Nancy Pelosi, Civil Rights leaders Bob Moses and Rev. William J. Barber II, Prof. Laurence Tribe, Senator Elizabeth Warren, Rep. John Lewis, and Rep. Alexandria Ocasio-Cortez.