Hoyer Statement on Filing for Re-Election
December 13, 2021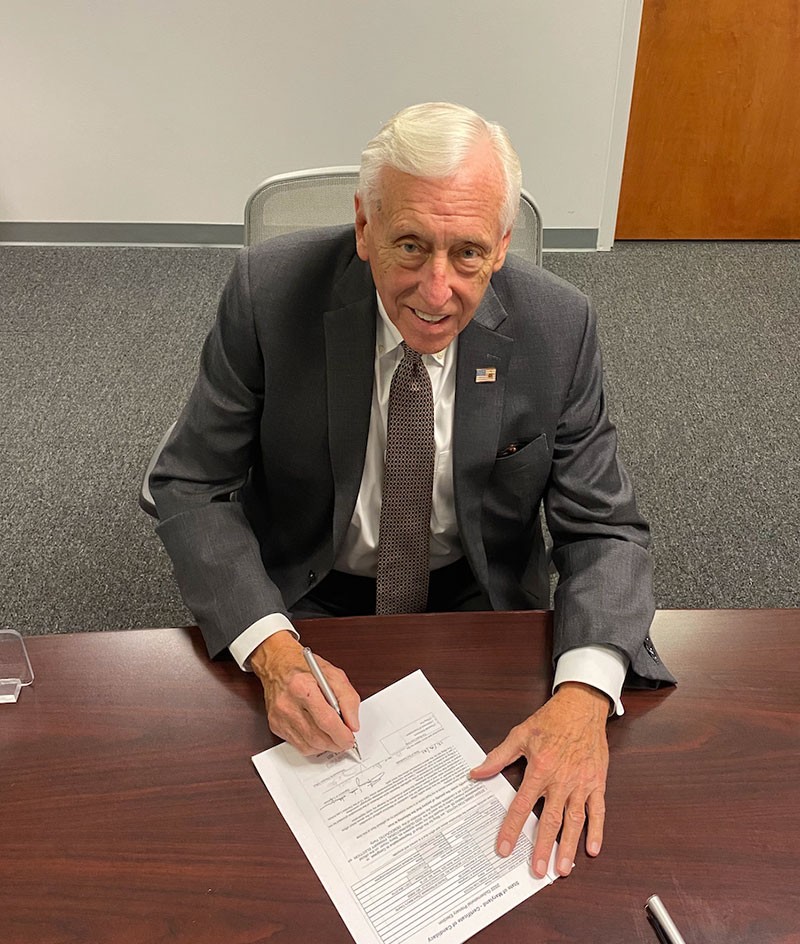 ANNAPOLIS, MD - Congressman Steny H. Hoyer (MD-05) released the following statement today after filing for re-election to represent Maryland's Fifth Congressional District in the U.S. House of Representatives:
"I was pleased to file for re-election today to continue delivering for Maryland's Fifth Congressional District. It is an honor to serve my constituents in Congress and fight for them to have every opportunity to succeed and get ahead.
"Over the past year, I have worked tirelessly in Congress to help Marylanders get through the COVID-19 pandemic. I was proud to help lead the effort to enact the American Rescue Plan, which accelerated vaccine distribution, allowed our small businesses to keep their doors open, and safely returned our children to school. This legislation delivered Child Tax Credit payments to over 88,000 Fifth District families and $38 million in direct payments to Marylanders to ensure they could pay their bills, put food on the table, and keep a roof over their head. I was proud to work closely with the White House to secure a mass vaccination site in Greenbelt. In slightly over a month, this site vaccinated 100,000 Marylanders and helped our state close the gap in vaccine disparities.
"I've also been proud to advance President Biden's Build Back Better Agenda through the House to bring real benefits to Maryland's Fifth District. The bipartisan infrastructure law will create thousands of good-paying jobs in Maryland, replace water pipes contaminated with lead, expand broadband access, and reduce traffic congestion and shorten commutes by improving our state's roads, bridges, and public transportation.
"The Build Back Better Act goes even further to help Marylanders achieve economic security by extending the Child Tax Credit, making child care and home care for seniors more affordable, capping insulin costs at $35 per month, and strengthening the ACA so that more people can access quality, affordable health care. It will also make historic investments in our state to address the climate crisis, which continues to be an existential threat facing our communities.
"Every day, but especially throughout the pandemic, my office has worked tirelessly to help Fifth District families get the assistance they need. Together we have resolved issues ranging from delayed mail deliveries, to pandemic-related travel difficulties, assistance with unemployment claims, and ensuring our veterans receive the benefits they have earned. Still, there is more to be done to improve the quality of life for families across the Fifth District. I hope to continue my work in Congress making health care and prescription drugs more affordable, defending our federal workforce, helping create good-paying jobs, and protecting voting rights and every woman's right to choose. As we look ahead to next year, I will continue to champion the priorities of residents in the Fifth District and look forward to working hard to secure their votes."